Travis Eats His Way Through Europe – Part 5 – Crazy Iceland!
While planning our trip a few months ago, Calli informed me that she would be up for trying some of the more unique and traditional meals in the countries we visit, so long as I post about them in a timely manner (a fair point as I only just publish my food post on Tapas a few weeks ago, and we were in Spain 11 months ago). So here goes part 1 for this trip – Iceland!
Iceland was a country that I was a bit apprehensive of food-wise. Fermented shark, whale, and puffin are all regularly found in restaurants…none of which I particularly wanted to eat. However, I quickly found out that Iceland has some unique and delicious foods to offer the adventurous traveler, aside from shark jerky.
As the first part of our visit to Iceland took place on the remote south coast of the country, and our lovely guesthouse was a farm in the middle of nowhere, we had to stock up at the local grocery store beforehand. It was here that we were able to try one of Iceland's best snacks, Skyr. A traditional Icelandic staple for over 1000 years (it even appears in the Sagas), it is a strained yoghourt that has the consistency of a silky smooth Greek yoghourt, and makes for a delicious, and protein packed breakfast. Available absolutely everywhere, it is one of the things you notice all Icelanders have in their shopping cart.
Later into our visit, once we reached Reykjavik, our real culinary introduction to the country occurred. Known for its eclectic mix of restaurants and foods, Reykjavik has created a real buzz with its mix of tradition and innovation. From traditional foods like Svið (half a boiled sheep's head) to fusion seafood restaurants, Reykjavik has it all. But it comes, for the most part, at a hefty pricetag. Even budget meals will run near $10 CAD. Luckily, if you do your research and plan well, you can have some great food and not kill your budget completely. Here are the best restaurants and meals we had during our stay.
1. Lobster Soup and Grilled Halibut Kebabs @ Sægreifinn ("The Sea Baron")
This restaurant came recommended by Hermann (the owner of our guesthouse) and serves as another example to always trust the locals. A small restaurant by the harbour, The Sea Barro serves kebabs of fresh caught fish (and whale if you feel like it) that you literally pick off the shelf before they grill it up. The chunks of fish are enormous and once grilled melt on your tongue. They also offer an amazing lobster soup (apparently voted best in the world) that is to die for. A kebab of your choice and big bowl of soup will cost you about 2200 ISK (a little over $18 CAD) but the portion is a good size so we decided to share one)
2. Falafel and Shawarma @ Habibi
The man who runs Habibi is an incredibly-friendly Syrian guy who makes a mean kebab. With a spicy kick and a friendly greeting, you'll find plenty of locals crammed into this tiny shop. We had a Shawarma and a Falafel plus a drink and it set us back just over 2000 ISK (about $17 CAD). Located two block down from the Harpa near the main tourist drag.
3. Rye Bread Ice Cream and Skyr Cake @ Cafe Loki
I couldn't remember where I read about rye bread ice cream, but it just seemed to stick in my head during the first three days we were in Iceland. While taking photos outside the Hallgrímskirkja we noticed Cafe Loki, a place offering traditional Icelandic foods. We decided to stop for an afternoon snack and had the rye bread ice cream and the skyr cake. Both were absolutely fantastic. The ice cream has roasted and ground rye bread in it that gives it a nice nutty flavour, while the cake is reminiscent of an overly creamy cheesecake, with a tart rhubarb reduction. The two desserts cost us a grand total of 1600 ISK (about $12.50 CAD).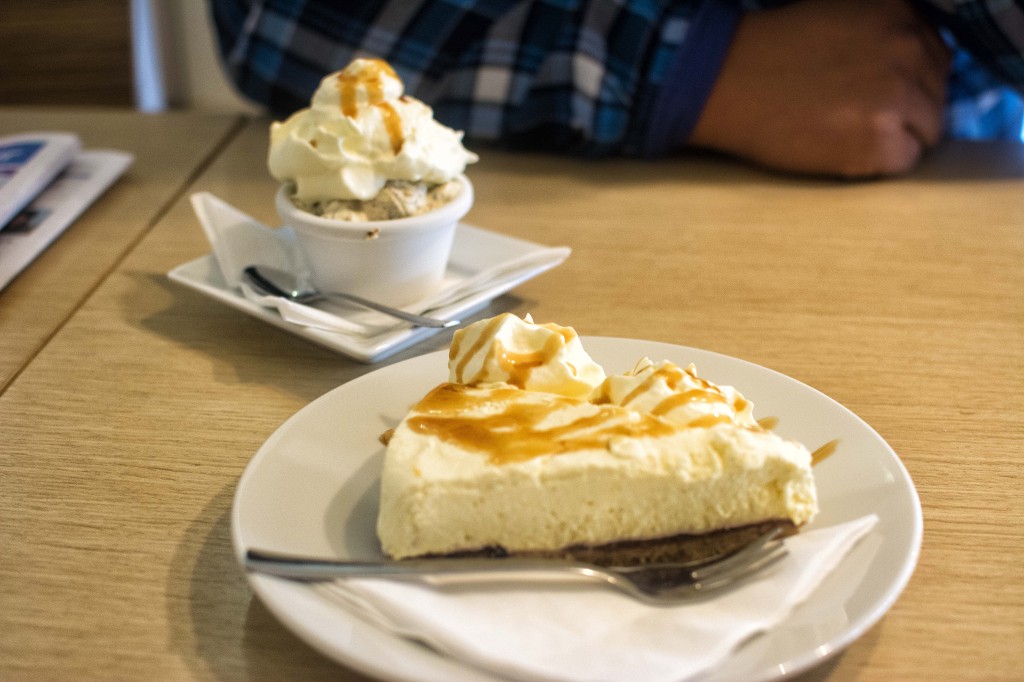 4. Icelandic Hot Dogs @ Bæjarins beztu pylsur ("The Best Hot Dog in Town")
The Icelandic hot dog is a must try for anyone visiting Iceland, and Bæjarins beztu pylsur, voted by The Guardian as best hot dog stand in Europe, is regarded as the top spot to grab a bite. Made of lamb and served with fried and raw onions, ketchup, sweet mustard, and remoulade (or a combination of those), they are delicious and cheap (about $3 apiece). A great pick-me-up during the afternoon or before a soccer game. Hey, even Bill Clinton stopped by when he was there!