Plitvice – Mother Nature's Prized Jewel
We stroll along the path, shaded by large spruce and fir trees, the sound of rushing water making conversation difficult, as the crisp mountain temperatures play with our senses. The steep hills covered with thick green underbrush look like home, the faint hints of musky dirt and moss smell like home, the quiet crunch of twigs underfoot sound like home, yet we are over 5000 kilometers from the nearest Canadian border and everyone we pass on the trail greets us with a nod of the head, a greeting universally understood no matter your native tongue.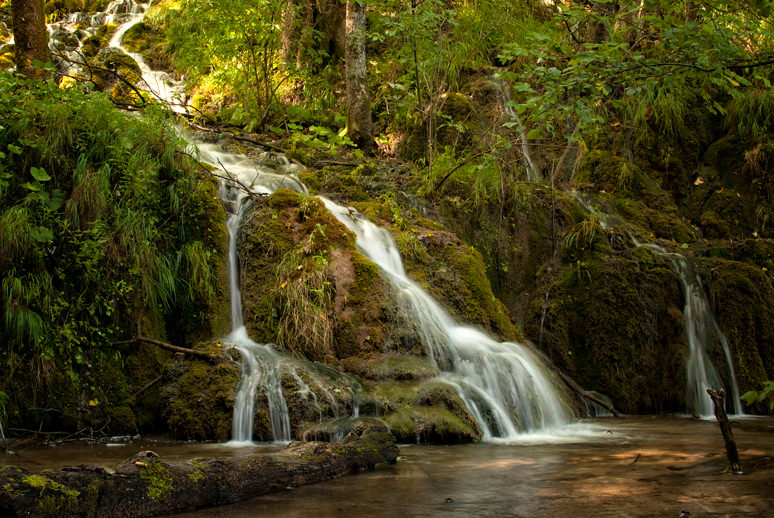 Plitvice National Park is unlike any area of Croatia we've explored, a remote place of peace and calm, interrupted for a few hours each day as tour buses spill noisy visitors onto the wooden walkways to snap photographs of the UNESCO protected natural park.  It's easy to understand the draw, Mother Nature's version of the supermodel, Plitivce Lakes are the perfect combination of countless waterfalls, crystal clear turquoise lakes, white limestone karst topography, and lush green foliage, the envy of National Parks everywhere.
296.85 square kilometers in size, sixteen cascading lakes make up Plitivce National Park as 1.2 million visitors take in it's beauty annually. As the oldest National Park in Southeast Europe, Plitivce Lakes are renowned for their distinct colours – ranging from bright turquoise to green, blue, and deep cobalt – that appear to change throughout the day depending on the angle of the sun. In addition to their colour, the lakes are so clear you can not only marvel at the plants growing up from the sandy bottom but also recognize how many fish call the park home, both small and large! The National Park is also home to an important natural geological process, the slow creation of travertine which is the result of an interplay between water, air and plants, and forms at a rate of 1 cm per year.
The park's trail system is quite extensive, incorporating electric ferries and buses to shuttle tourists around, a welcome relief after walking for hours. In a unique layout, optimized to give visitors the best possible views, the park's 8 km of wooden walkways weave their way around lakes, crisscrossing in front of waterfalls and connecting with trail systems that wind their way alongside fast flowing creeks. The system allows for some great photo opportunities as well.
Immaculately maintained, it's nearly impossible to tell how many tourists visit the park daily, as their footprint is barely visible. As we visited later in the season, just as the leaves were changing for fall, we effortlessly found areas where we were the only two people on the trail, an opportunity to fully take in the majesty of this natural wonder.